Step into our captivating wine room, the Kudu Room. The Kudu Room, named from the African Kudu, is a wonderful spot to relax and sample our wines. Wine tasting is complimentary at Wildlife Lodge & Winery. We have several varieties for you to try and fall in love with. Our wine names and labels share the African theme as well.
Red Wines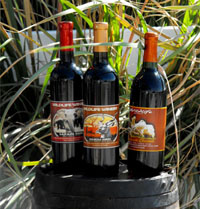 Safari Red: Dry Red
Our Safari Red is a Dry Red Wine. It is a Full Flavored wine made from the Chambourcin grape. It is an elegant wine generally served at room temperature. This wine is aged in oak barrels for 1 year. As with any good red wine, it gets better with age.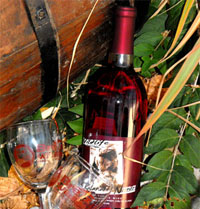 Kudu Red: Semi-Sweet Red
Kudu Red is a Semi-Sweet Red Wine, made from a plush Chambourcin grape.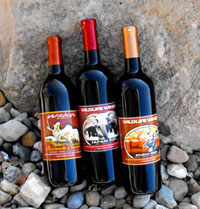 Passionate Cheetah – Sweet Red
Passionate Cheetah our Sweet Red Wine made from the Concord grape. A traditional wine that reminds you of what grandpa used to make.

Blush Wines
Kalahari Sunset: Semi-Dry Blush
Kalahari Sunset is a Semi Dry Blush Wine made out of a blend of the Chambourcin and Vidal grape. It is pleasantly light to taste with a hint of spice!

Kalahari Sunrise: Sweet Blush
Kalahari Sunrise is our Sweet Blush Wine. Blended of the Concord grape with a dab of the Niagara, this wine is full of fruity flavor which makes it is oh so pleasing!

Kalahari Nooner: Blush
A special Blend of our Kalahari Sunrise and Sunset…


White Wines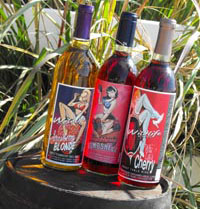 Serengeti White: Dry White
Dry White Wine made from the Chardonell grape.
Sha-Lula White: Semi-Dry White
Sha-Lula comes from an African language. Sha meaning young, and Lula meaning innocent, it is a Semi-Dry White Wine made from the Vidal grape. It is not overbearing and is a must try wine!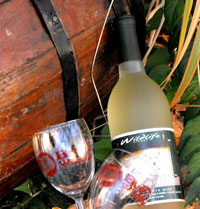 DOC's Pride: Semi Dry
DOC'S Pride is a Riesling that is a semi-dry white.
Lion Eyes Riesling: Semi-Sweet
Lion Eyes Riesling is a semi-sweet white, "It's the sweetheart of our whites." Utter Perfection!
Serenity: Sweet White
Sweet White Wine. Villard Grape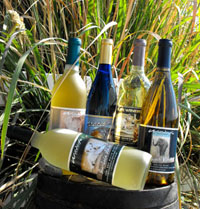 Mystic White: Semi-Sweet
Mystic White is a Semi-Sweet Wine made from the Niagara grape& blended with a Riesling. This distinct grape will pull you in with its aroma. The flavor mimics eating grapes pulled from the vine and having them burst in your mouth. The aroma of this wine says it all!